Commissioners
The Port of Royal Slope has three Commissioners, one elected from each district area.
District 1: Columbia River on the west side heading east to approximately G Road
District 2: Town area from G Road heading east and south of Hwy 26 including the Smyrna area
District 3: North of Highway 26 from approximately F Road heading east to the Adams County line
We usually have one Commissioner up for re-election every other year.
Commissioners are elected for 6 year terms.
District 1: Frank Mianecki, Jr. 2017
District 2: Alan Schrom 2017
District 3: Davey Miller 2021
---

Frank Mianecki, Jr. (Skeeter) was appointed Port Commissioner in 2016, representing District #1.  Skeeter lives just 6 miles from where he grew up  in the Royal district.  He farmed his first 10 acres at the age of 15.  He attended Big Bend and Spokane Valley Community Colleges studying in business, but his greatest lesson came from his dad who taught him at an early age, that the most valuable thing you can put on your field is your footprint.  Skeeter's vision for our Port is to form partnerships and complete projects that will bring business and development to our region to broaden and strengthen the economic base of the Port.
---

Alan Schrom has been a Port Commissioner since 1999 representing District #2. He works for the Bureau of Reclamation as an electrical engineer.  Alan has a wealth of knowledge about port business because his mother, Patricia Schrom, was instrumental in getting the port started in 1958 and worked as the manager for many years.  Schrom says, "I am convinced that family farms working together with the Port can develop industry. They can achieve the same advantages as large farms while maintaining the flexibility of small ones, making them the most efficient producers in America."
---

Davey Miller became a Port Commissioner in 2004 and represents District #3.  Davey has lived and farmed in Royal City his entire life. He brings into the port his knowledge of not only agriculture, but also agri-business. He has been actively involved in the family business of forage production, along with the marketing and delivery of the product. He has great aspirations of working with local producers to make the port a valuable asset to everyone in the community.
Port Director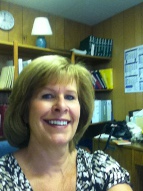 Cathy Potter is the Director for the Port of Royal Slope. She and her husband, Gary, have raised three children and lived on the Royal Slope for over 30 years. "This is a wonderful, caring community." She began working for the Port in September of 2002 and enjoys the diversification of her job, from applying for grants and doing the bookkeeping to taking water samples and pulling weeds. Cathy enjoys meeting people and looks forward to working with anyone who is interested in starting a business.
---
Port Disclosure & Small Works Roster
Public Records Officer: Cathy Potter , Port Director
Public records may be requested by completing the Request for Public Records form. Submit the completed form to the Public Records Officer. The Port will respond promptly upon receiving your request. Within 5 business days the Port will either:
Provide the record.
Acknowledge the request and give you an estimate of how long it will take to respond.
Deny the request in writing, stating the specific exemption or law it relies upon for its denial.
***If the request is not clear the Port may ask for clarification.
---
2018 Small Works Roster Application